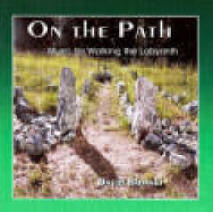 Music for the Walk
Setting the environment is the first step in preparing for the labyrinth experience. We recommend setting the volume at a level that will allow the walker to choose whether to include/exclude, it as part of their personal pilgrimage experience. We encourage you to vary the musical selections from one walk to the next. We find that very familiar music often comforts, but sometimes distracts pilgrims. (Click titles for details )
Awesome NEW CD , On The Path by David Blonski. David provided a memorable music experience at the 2002 Labyrinth Society Gathering in Sacramento, California This CD, inspired by his own labyrinth journey, was released last month at the Midwest Labyrinth Gathering ! available exclusively for a limited time at www.labyrinthshop.com
jump to: rare finds
jump to: make your own music
jump to:

DVDs/video
jump to: BOOKS own your own website at www.peacefulsites.com
Richard Souther/ VISION: The Music of Hildegard Von Bingen; © 1994 Angel Records CDC 55246 - Hildegard Von Bingen lived in the 12th century. Her music is more developed than the traditional Gregorian Chants; and has quite a mystical quality. She died in 1179 about the time construction began at Chartres. Includes the verses and English translations in a 30 page booklet. (note this is an import with limited availability)
Richard Souther/ Illumination: Hildegard Von Bingen; the Fire of the Spirit © 1997 Sony Classics - Hildegard Von Bingen with slightly modern arrangements. (see above)
The Benedictine Monks of Santo Domingo de Silos/ CHANT; © 1994 Angel Records CDC 55138 - This is one of the few religious music CDs ever to "hit the charts". Gregorian chants date from the era of Pope Gregory I, who reigned from 590-604 AD. Many of us were first introduced to the Chartres labyrinth with these simple melodic chants from the liturgy of the early church.
Seven Metals Singing Bowls of Tibet - © 1999 Benjamin Iobst A superb recording of Tibetan singing bowls, with wind chimes gongs, and Tingsha. Relaxing peaceful and enchanting tones that resonate deep to the bone. The use of seven metals in the crafting of the bowls is responsible for the intertwining mystical tones and overtones. This is definitely not a CD to play while commuting to work! L.G.
Peter Kater/ R Carlos Nakai: MIGRATION ; © 1992 Silver Wave Records, SD704 - Piano, Native American flute, cello, other. Kater and Nakai are an awesome duo. The CD is designed as a 'map' for a spiritual journey. We have used it frequently at our open labyrinth walk sessions. This CD with the right incense is an ethereal experience.
Brian E. Paulson / Arc of Light: © 1998 Aeon Records A005 - Music to relax the body, balance the mind, attune the spirit. Native American flutes, exotic percussion. Popular music often heard LIVE at several labyrinth sites in the Midwest. Close listening facilitates transcendence!. If you were to have only one CD, this is what the Labyrinthguy would recommend!.
Hilary Stagg / The Edge Of Forever ; ©1993 Real Music RM 1810 - The captivating sound of harp, combined with flute and keyboards offer the serenity, power and tranquility of a musical sanctuary. Track 4, "the end is the beginning" is worth the price alone!
Chrysalis / 2002: © 1997 Real Music RM 8800 - angelic keyboards and strings, combined with tender flutes and poetic guitar. "a mysterious creature, neither caterpillar nor butterfly, transforming into more than all that it is.... With eyes closed we can find a place of safety... a secret room, a magic cave, somewhere in nature". Just reading the liner notes is enough to set you on the journey to become!
Reiki, Touch of Love/ Anuvida & Nik Tyndall ; © 1999 New Earth Records 1462-2 - Kiboe, synthesizers,environmental sounds. Peaceful music that compliments all that Reiki represents, and fits well with the pace of a labyrinth journey.
Windham Hill Artists / Conversations with God. © 1997 Windham Hill 01934-11304-2 - Collection assembled with "Conversations with God" author Neal Walsch. Some wonderful music by several W-H artists including Yanni, Ray Lynch, Liz Story, Jim Brickman, George Winston, David Arkenstone and more…