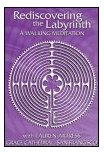 Rediscovering the Labyrinth 30 minutes DVD VHS
The story of those who have been transformed along the path, this is a moving documentary of real people whose lives have changed by walking the labyrinth. Stuck in a job he feels he cannot leave, a performer learns to trust his intuition. An artist unlocks his creative potential and embraces his true path. Faced with illness, a woman finds balance in body and spirit as she walks. Join the Reverend Dr. Lauren Artress, author of Walking a Sacred Path, as she presents this treasured gift to all seekers. From ancient origins to contemporary applications, the labyrinth is a crucible for change, a blueprint for the sacred meeting of psyche and soul, a field of light, a cosmic dance.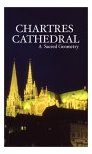 Chartres Cathedral: A Sacred Geometry
DVD VHS This extraordinary documentary film explores one of the most beautiful and mysterious cathedrals in the world, the famous Chartres Cathedral in Chartres, France. Filmed by an acclaimed BBC cameraman, it features haunting images and beautiful music, and advances challenging theories and discoveries by Professor Keith Critchlow, a leading expert in sacred architecture who has studied the mysteries of Chartres Cathedral for over forty years. Also featured is Malcolm Miller, author and longtime cathedral guide. (The DVD Bonus Feature is a Photo Gallery of Chartres Cathedral, provided courtesy of the Virtual Chartres Cathedral (Professor Stephen Clancy & Ithaca College)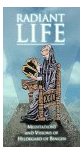 Radiant Life: Meditations & Visions of Hildegard of Bingen (1996) VHS The Rev. Dr. Lauren Artress hosts a look at the meditations of Hildegard of Bingen. Born in the Rhineland in 1098, the 10th child in her family, she was tithed to the church by her parents. She took vows as a Benedictine nun and later became abbess. She formed an independent Benedictine order for women. At 42, she began to have "lucid visionary experiences" about the relationship between people, God, and the natural world, which she called "The Web of Creation." She wrote books, poems, and songs, as well as the first morality play. Her knowledge of herbal remedies and women's medicine was extensive, and she authored medical texts. This video explores her beliefs. With her liturgical chants in the background, illustrated by religious and natural imagery, the writings of Hildegard are read, creating a moving spiritual meditation.
when we find them, we will list them!