after the The Labyrinth Society Gathering 2002 all photos (c) PAXworks
NOTE: as many of our friends attending the Gathering were aware, I drove 2300 miles from Indianapolis and made a few stops along the way, below are a couple highlights of the journey from the center! click on thumbnail for larger images JR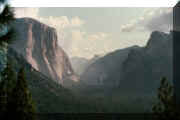 Upon leaving Sacramento, I drove through Gold Country to Yosemite Valley where smoke from a 'controlled burn' gave a mystical quality to this view of the valley.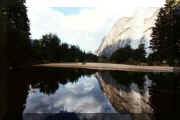 Yosemite is a photographers paradise! The stillness of the Merced River gave an opportunity for peaceful reflection. http://www.nps.gov/yose/index.htm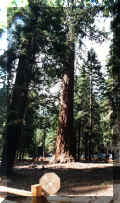 I took along an 'environmentally friendly' finger labyrinth as I toured the Mariposa Grove of Giant Sequoias. The wood in the labyrinth has an ancestral connection to the 2500 year old trees.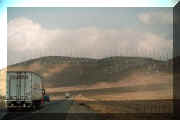 The next day I headed for Las Vegas, NV which required driving across California's windy dusty Mohave Desert. The hills were alive with modern windmills!

Driving through northern Arizona, My labyrinth and I chose to stop and visit with some even older wood....
225 million year old petrified wood ! http://www.nps.gov/pefo/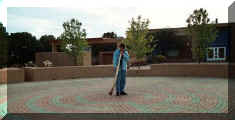 In Santa Fe, I visited the Labyrinth in Milner Plaza built by Marty Kermeen last year. It has unique echo chamber characteristics in the center, and I tested them with my new Yucca Didjeridoo. (Made by David Blonsky) As I played, a Coyote on the nearby hill chimed in and howled a duet to the pure amusement of the people on the plaza!
I pulled off the interstate near Pecos National Historic Park to enjoy a beautiful New Mexico sunset. This site is near property once owned by actress Greer Garson.
http://www.nps.gov/peco/index.htm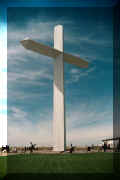 along I 40 near Groom Texas is the largest cross in the western hemisphere. You can see it for miles! The plaza includes a stations of the cross, and a Calvary hill display. There's a similar display in Illinois along I-70.