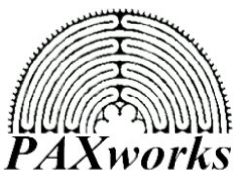 PAXworks photo gallery
Museum of International Folk Art - Milner Plaza, Santa Fe, New Mexico.
click thumbnails for larger image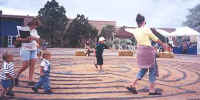 A 40 foot Chartres style labyrinth constructed temporarily as a first stage of the plaza being built outside the museum. A beautiful permanent paver labyrinth was constructed in 2001( below). Photo © J.W. Ridder

Construction of a new plaza was completed in Fall 2001. The plaza has a permanent labyrinth of a new design built by Marty Kermeen. These are a few fragments of this labyrinth that were on site as of May 10, 2001. website of Marty Kermeen
The labyrinth on Milner Plaza
In fall of 2002, I visited the Labyrinth in Milner Plaza built by Marty Kermeen. It has unique echo chamber characteristics in the center, and I tested them with my new Yucca Didjeridoo. (Made by David Blonsky) As I played, a Coyote on the nearby hill chimed in and howled a duet to the pure amusement of the people on the plaza!
The above from my sept 04 visit... a great location with views of the mountains on a cool pre-fall day. photos (c) PAXworks
Please Note: PAXworks publishes only photos for which we either own the copyrights, or have permission from the photographer to publish them. Please join us in respecting the rights of all photographers and other artists.